The Weimaraner Club of Victoria has many members involved in tracking. 
  In 2007 the Club re-introduced a Tracking Introduction day which was very successful. This was held at the You Yangs State Park, West of Melbourne- see photos.
During 2008 the committee held another Introduction Day for beginners and advanced trackers.
2014 will see the club hold more info and training sessions for our members incorporated into our Weimfest !!
Come along if you would like to learn more..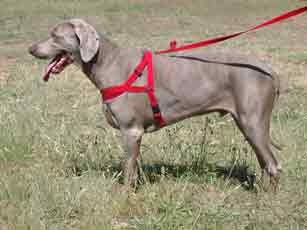 Harnessed up ready to start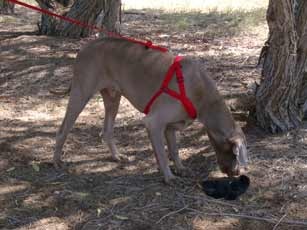 Scenting the Article at the start of a track
Check out the Calendar for the next event and keep an eye on the Magazine or subscribe to the e-Newsletter for more dates.
If you want specific information please use the Contact option above, or contact Bern Evertsen in the direct
contacts list
.
The 2014 Tracking season is nearing an end.
It has been a most successful year for a good number
of our members and their dogs, with several titles gained.

It is also heartening to see some new faces on the
tracking scene.  At the recent trial at Inverleigh, held
over the weekend of 23, 24 & 25th August, a total
of 5 Weimaraners and 3 Longhaired Weimaraners
competed and it was a clean sweep, with a
100% pass rate !  Well done to everyone.

(Photos below of 7 out of the 8 Weis who gained passes. 
Missing the camera shy Roz Buckley with her girl Polo !)
 
---